Zakarpatia Hotel in Uzhhorod
Price Rates and Photo

ZAKARPATIA HOTEL

Uzhhorod, Ukraine

Zakarpatia Hotel is situated in a picturesque part of town.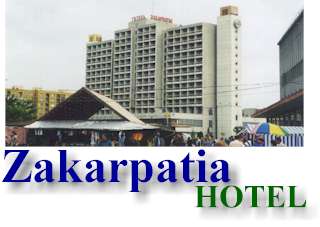 We can reserve your room for you when you provide us with the following information. Be sure to click on the "Submit" key which follows the last data field.
Zakarpatia Hotel offers:
Single rooms from 65.00 $US per night (per room, not per person);
Double rooms from 90.00 $US per night (per room, not per person);
Suite 110.00 $US per night;
Extra bed 30.00 $US per night;
The above include breakfast, porterage of 2 pieces of luggage on arrival and departure;
Other Services:
TRANSFERS-
Train station to hotel to train station 9.00 $US each way;
Airport to hotel to airport 9.00 $US each way;
Chop railway terminal to hotel to rail station 30.00 $US each way;
Uzhhorod to Kochice 120.00 $US;
Uzhhorod to Budapest 300.00 $US;
Car and driver within the city - 20.00 $US/hour;
Group rates available upon request.


HOME | CONTENTS | GUEST BOOK | STAFF | UKRAINIAN HOUR
SUN & FUN | COUNTRY MUSIC | UPCOMING TOURS

UKRAINE CONTENT
Calendar | Car Rentals | Corporate & Individual Travel | Cruises | Documentation | Facts | Family Searches
Hotels | Internet Links | Itineraries | Photo Catalog | Rail | Special Group Tours | Travel Tips

PLUS THIS YEAR'S EXTRAORDINARY UKRAINE TOUR
Need help with your computer?
or perhaps you've been considering computer training?
In Edmonton, check Darwin Fedorick first!
Click here to see what he offers!
Copyright © 1998 by Darwin Fedorick. All rights reserved.
Revised: 30 July 1998 14:07:15 -0600.