Tourist Hotel in Kyiv (Kiev)
Price Rates and Photo

Tourist Hotel

2, R. Okipna St., Kyiv 253002, Ukraine
Tel: 380 (44)516-2050; Fax: 380 (44)517-8252

Tourist Hotel rooms have beautiful views and the hotel is 8 minutes by subway from the centre of Kyiv.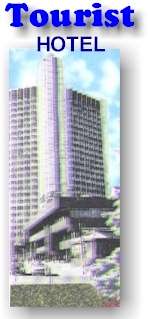 We can reserve your room for you when you provide us with the following information. Be sure to click on the "Submit" key which follows the last data field.
Tourist Hotel offers:
Sightseeing tours around Kyiv plus business trips around Ukraine;
Concierge will book tickets for you for all kinds of transportation;
Only eight minutes fom centre of Kyiv by subway;
Single or double bed rooms with ensuite bath;
Fully modern communications facilities;
Conference hall can handle 296 people;
Panorama views from every room;
Parking lot with 24-hour guards;
Sauna, massage;
Restaurant;
Casino;
Bar;


HOME | CONTENTS | GUEST BOOK | STAFF | UKRAINIAN HOUR
SUN & FUN | COUNTRY MUSIC | UPCOMING TOURS

UKRAINE CONTENT
Calendar | Car Rentals | Corporate & Individual Travel | Cruises | Documentation | Facts | Family Searches
Hotels | Internet Links | Itineraries | Photo Catalog | Rail | Special Group Tours | Travel Tips

PLUS THIS YEAR'S EXTRAORDINARY UKRAINE TOUR
Need help with your computer?
or perhaps you've been considering computer training?
In Edmonton, check Darwin Fedorick first!
Click here to see what he offers!
Copyright © 1998 by Darwin Fedorick. All rights reserved.
Revised: 30 July 1998 14:07:15 -0600.