Dnipro Hotel in Kyiv (Kiev)
Price Rates and Photo

DNIPRO HOTEL

Kyiv, Ukraine

Dnipro Hotel is located at the foot of Khreschatyk Street, on European Square next to Ukrainian House and the National Philharmonic. Main transit routes are only steps from the entrance.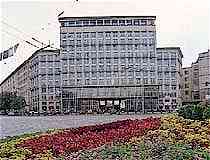 We can reserve your room for you when you provide us with the following information. Be sure to click on the "Submit" key which follows the last data field.
Dnipro Hotel offers:
180 rooms;
Live Music;
Swimming Pool;
Conference Hall;
Business Centre;
Recently completely rebuilt.
Formerly was the main Intourist Hotel in Kyiv.
Elegant interior decoration in the best European style;
Phones, TV, mini-bar and bathroom in all rooms;
Great food in the Dnipro Restaurant;
Visa, MasterCard, Diners Club, EuroCard, and American Express accepted.


HOME | CONTENTS | GUEST BOOK | STAFF | UKRAINIAN HOUR
SUN & FUN | COUNTRY MUSIC | UPCOMING TOURS

UKRAINE CONTENT
Calendar | Car Rentals | Corporate & Individual Travel | Cruises | Documentation | Facts | Family Searches
Hotels | Internet Links | Itineraries | Photo Catalog | Rail | Special Group Tours | Travel Tips

PLUS THIS YEAR'S EXTRAORDINARY UKRAINE TOUR
Need help with your computer?
or perhaps you've been considering computer training?
In Edmonton, check Darwin Fedorick first!
Click here to see what he offers!
Copyright © 1998 by Darwin Fedorick. All rights reserved.
Revised: 15 February 1999 00:07:15 -0600.