Cheremosh Hotel Photo & Rates
Chernivtsi, Ukraine

CHEREMOSH HOTEL (***)

Chernivtsi, Ukraine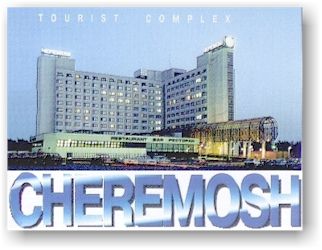 The Cheremosh Hotel, the best hotel in Chernivtsi, is located in a scenic neighbourhood surrounded by parks and lakes not far from the centre of the city.
Built in 1984 and offers high quality service and hospitality.
The 11 storey building accommodates 326 rooms each with TV, phone and private bathroom.
Located within the hotel is a post office, hairdresser, sauna, and currency exchange.
Phone: 011-380-3722-47500
Fax: 011-380-3722-58-55-88
We can reserve your room for you when you provide us with the following information. Be sure to click on the "Submit" key which follows the last data field.
Cheremosh Hotel offers:
24-hour secured parking available
Newly built in 1980's with 326 rooms;
All rooms include satellite TV and phone;
Single occupancy from 65.00 $US per day;
Single, double and deLuxe rooms available;
Individual tourist escort 60.00 $US per day;
Sauna and massage services 7.00 $US per hour;
Guide and interpreter service 20.00 $US per hour;
Double occupancy per person from 47.50 $US per day;
City tour 1-3 persons in car 48.00 $US per car (not per person);
Transfer from hotel to train or train to hotel 38.00 $US each way;
Variety of restaurants featuring Ukrainian, Hungarian and Continental cuisine.

HOME | CONTENTS | GUEST BOOK | STAFF | UKRAINIAN HOUR
SUN & FUN | COUNTRY MUSIC | UPCOMING TOURS

UKRAINE CONTENT
Calendar | Car Rentals | Corporate & Individual Travel | Cruises | Documentation | Facts | Family Searches
Hotels | Internet Links | Itineraries | Photo Catalog | Rail | Special Group Tours | Travel Tips

PLUS THIS YEAR'S EXTRAORDINARY UKRAINE TOUR
Need help with your computer?
or perhaps you've been considering computer training?
In Edmonton, check Darwin Fedorick first!
Click here to see what he offers!
Copyright © 1998-2002 by Darwin Fedorick. All rights reserved.
Revised: 15 March 2002 14:07:15 -0600.