Here are actual comments we've received from recent clients:
It was great to know that you guys were there to take care of us when we needed you and your concern when any of the participants were sick was appreciated. I've been on tours where when you were sick you were on your own to get your own medications. Thanks.
I have also been telling everyone in the Ukrainian classes I attend in Regina that if they are looking for a fantastic tour of Ukraine to contact you guys in Edmonton. 1st class service all the way!
Kyla Bodnar
---
Hi Robert:
HEY! HEY! IT'S ZABAVA TIME AGAIN IN HAMILTON!!!
We are back home after two great months of rest and relaxation in Sunny Florida.
But, it's great to be home again. I missed your "Zabava" program but the CD's you sent me provided the entertainment I needed. Thanks for sending me these C.D.'s -- I've really enjoyed them.
I have been trying to put my pictures (all 850 of them) together plus writing up an itinerary of our fantastic trip to the Ukraine. You organized a top notch trip for which Marg and I are thankful. As a result, Marg and I are hoping to visit her family again---in Budapest and Satu Mare, Romania. The Ukrainian border is not far from here -- about 2 miles down the road and about 40 miles from Mukachevo. I have to find somebody to drive us to Chorostkow where I hope to spend a week or more with family I met on our trip. It was about a 3 hr. drive from Chernivtsi -- so we spent about 4hrs.together -- too short.
My relative whom I introduced to you in L'viv (who does genealogy and is an Artistic Director at the Zankovetska Theatre) lives in L'viv and just bought an old Lada. He has made gestures to pick us up at the Romanian/Ukrainian border. I guess he does not have a Visa. I don't know if there is anybody in Romania that could drive us. We'll have to start researching this in the new year. We flew with MALEV Airline two years ago -- direct flight from Toronto to Budapest -- the only way to go -- cost was $920.00.
I listened to your Zabava program last night ---- first time in two months. I really missed this and look forward to your weekly programs.
Thanks again for our memorable trip. We have many fond memories of the great times with you and eveyone associated with the trip. You and your associates did a top notch job!!!
Merry Christmas and a Happy New Year,
Margaret & Zenis Zyma
---
Dear RJ
It is with great joy and enthusiasm that I thank you for letting me be part of the R.J.'s Tours trip to Nashville, Branson and beyond. I had never been on a vacation like this before and it was a super experience that will last a lifetime.
The trip was one to remember, but just as memorable were a lot of the things I observed from your company. How the people on the tour were more than just a pay check. Working with the elderly is not an easy thing and I was happy with RJ's interaction with the travelers which encouraged me to do much the same. Plus the birthday cake and catering to the needs of the sick and the troublemakers like me.
Thanks for doing what you do so well and for including CFCW. I look forward to continuing to pass on my great experience with you. Thank you from the bottom of my heart RJ for the talks, the super treatment and your friendship. You mean a lot to my career.
Sincerely
Nick Gulka
CFCW announcer
790 CFCW
---
October 27, 2006
Hi R. J.
Just calling in to say "Hi yaw' All"
Wes and I thoroughly enjoyed our trip to Nashville, Branson, Memphis, Dollywood, and Silver Dollar City with R.J's tours. We recommend this tour to all our family and friends. It was a well organized, exciting and very informative tour- lot to see and enjoy and wow - super friendship all around and such good weather.
Hopefully this week, I will be able to complete my photo album of our tour.
We enjoy listening to your radio program R. J. as well as Nick at Night. You guys are great. Keep up the good work.
Wes & Julia
Lindale, Alberta
---
Dear RJ
I didn't get a chance to properly thank you for the fabulous Country Music Tour.
The whole thing was top-notch.
It was more than I imagined and a dream that finally came true.
I am happy that I chose R.J.'s Tours to fulfill my dream.
It was a busy tour but it was all worth it., we covered a lot of ground and saw a whole lot.
Right now I will start building up my holiday fund for another R.J.'s Tour.
Lorraine
Gadsby, AB
---
RJ
What a remarkable 12 days spent in the "south" - It was a fantasyland, with all the lights, sparkles, music, song, dance and clothing.
Watching similar shows on TV gives only a portion of the actual conditions.
All the shows will be remembered for their unique style - they were all great.
Also there really was great food throughout.
Looking back on such an enjoyable experience it's evident that there was a lot of extensive planning on your part to make all activities, reservations, tours, shows, meals etc, all flow together seamlessly.
It was such a different type of vacation for us and we want to send you a few lines to say " Thank you so much we truly enjoyed the experience"
Looking forward to the Panama Cruise.
Vern & Lillian Edmonton
---
Hi Robert J.
I would like to thank you for a fabulous Ukraine tour. It was very interesting to see that country.
The entertainment we had was just fabulous. I had a marvelous time.
You were a great host and what a sweet lady Svetlana is.
Thank you for the photos you sent me.
Thank you again
Sylvia Farrus
Edmonton
---
Dear Robert
Just had to write and say what a fabulous and well organized tour we enjoyed in Ukraine with R.J.'s Tours.
My mother told me it would be good but it exceeded my expectations.
Kyla Bodnar was a super room mate. We had a lot of fun.
In addition, it was great to meet so many friendly Canadian people. Everyone mixed so well.
Your Ukrainian staff were brilliant, carefully looking after us.
Well done R.J.'s Tours. Keep up the good work.
Cheers. I am currently in the south of France.
Monica Gorton
---
Hello Robert!

I am back at school in meetings/setting up a classroom prior to our CBE students' first day back on the Tuesday after Labor Day and it is hard to believe that just a week ago we were all taking in the sights of beautiful Kiev!

The August 10th-25th Tour was absolutely incredible due to your thoughtful planning, organization & arranging! It really was a Trip/Tour of a lifetime. All the people our our Tour were really fun, friendly, happy, helpful and enjoyable to be with. As you know being there with Mom, Dad & Cath was also what made it so special.

Robert, thank-you so very much for the wonderful keepsake Brochure, Photographs and Beautiful Blue Bowl! You really have thought of everything! The Tour's Hotels, Restaurants and entertainment were perfect and I just can't tell you enough how these happy memories will be with me forever!

I received the group photographs/other photos today in the mail and they were super!

I enjoyed meeting you and wish you a very healthy, happy Fall in Edmonton.

Ciao for now,
Sandi Mackay
---

Hi RJ
Thanks for a wonderful and most memorable holiday in Ukraine I had a BALL!!!!!
The pictures are great and bring back a lot of fun filled memories.
No one puts together a tour to Ukraine like you do.
Trudy Grier.

---
Act now!
As the next letter indicates, anyone wishing to trace their family roots should make that visit as soon as is practical. Remnants of an older generation still exist there who could have valuable information to share. In a few more years, that generation may no longer exist and tracing becomes more difficult and more impersonal.

---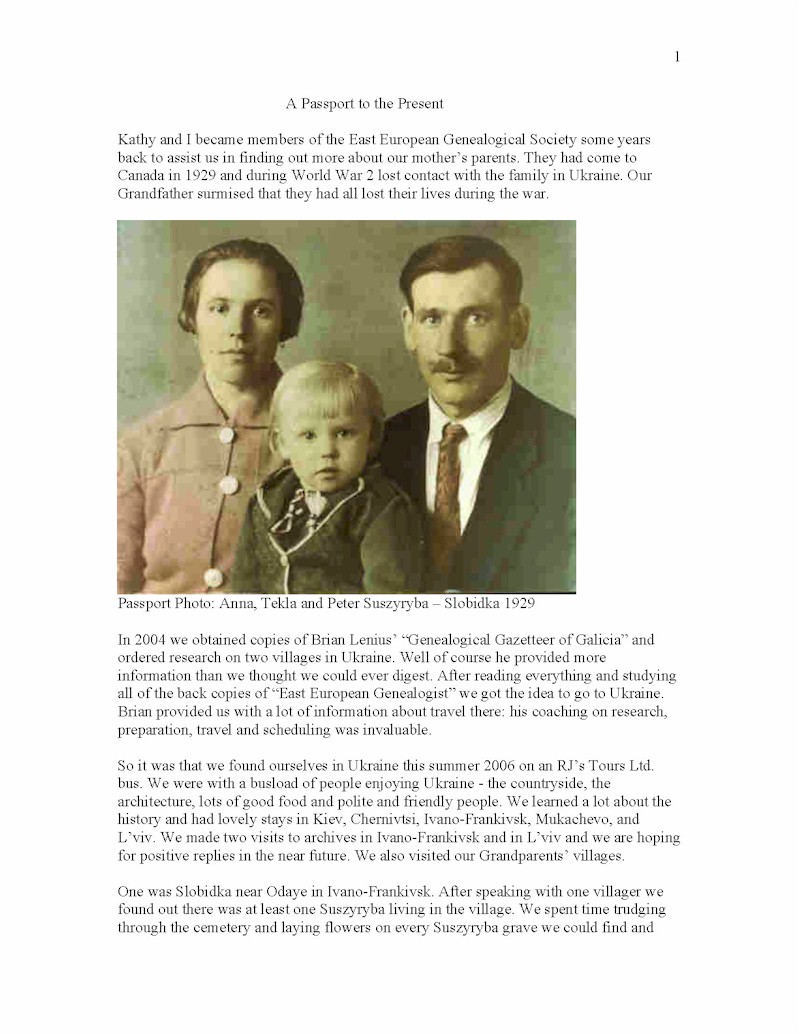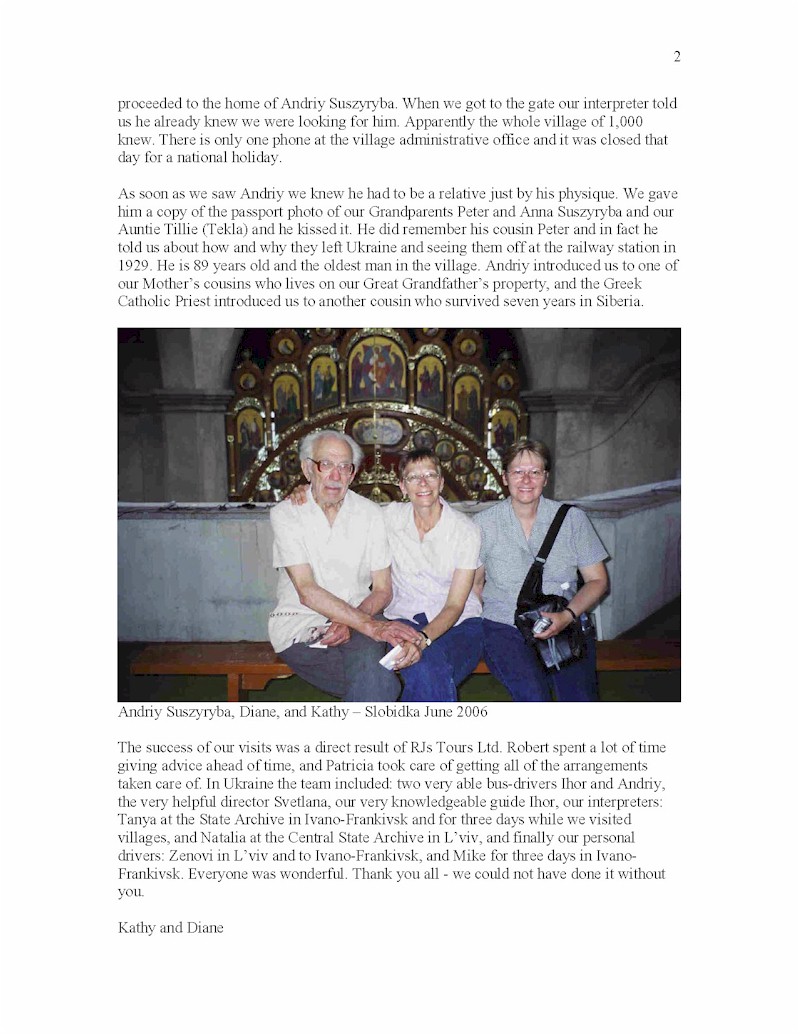 ---
"Robert & Patricia,

Your tour to Ukraine has left a lasting impression on our whole group and will be a hard act to follow. The Aussie contingent have had the best time ever and all agree it was the best value for money we have ever had. Our wives have been infected by your companionship and went into a frenzy at every bazaar they could find to chalk up an excess baggage bill that will aid the Australian economy for the next decade - they enjoyed it!!!

My thanks to Svetlana and Ihor for the car arrangements and resourceful driver Yura , a regular Soprano who was at ease with customs and border guards and could mix with Archmandrates and our relatives and was a great companion. You should award Svetlana an honorary Doctorate of Medicine for her skilful use of charcoal tablets and other secret medicines in tending to sensitive western stomachs.

I suggest you bar your door in Edmonton as you may have some eager Aussie guests.

Best wishes,
Joe and the pilgrims from Oz. "
---
"Your website is great. I would like to take this opportunity to thank Patricia for organizing the wonderful Country & Western Music Tour in October. What great fun we had with wonderful people, seeing lots, great shows and great food. We enjoyed having CFCW's Tim Ellis and his wife on board.
Sandra Gibb & Roza Grant"
---
"G'day RJ and Pat
Arrived home in Australia from our travels yesterday and in amongst all the mail was an envelope from RJ's with the photo's of our June tour.
Christina and I would like to thank you for such a fantastic tour. We both had a fantastic time, making many Canadian friends along the way. They were all such a great bunch.
We both agreed it was the best tour we have been on and we send our congratulations to you and all your staff involved for ensuring the tour went so smoothly and was such good fun.
The accommodation and eating places were all first class.
We will have no hesitation in recommending your company to others.
Thank you once again for a great trip.
David & Christina Wicks"
---
"Hi Patricia,
We had a wonderful holiday to Ukraine with you and your staff.
Thanks for the photos they are a good memory.
You are a very pleasant lady perfect for the job.
Your organizers did a great job.
We will always remember your nice smile.
Thanks again.
Ray & Gladys"
---
"Hi Patricia
We just wanted to send a thank you for a wonderful vacation.
Please also send our warmest thanks to Ihor, Svetlana, Bill and Victor.
The whole tour was fabulous.
We have been busy putting a scrapbook of our trip together.
We've been having fun listening to the tapes to confirm things I had written in my journal.
We love the photos you sent us.
Thank you for getting them sent out so quickly.
They put the final touch to the album.
Our warmest thanks
Gwen & Tony Hnetka"
---
(Individual travel arrangements for those who prefer traveling on their own)
"Robert, I just returned, and had a great time, and your arrangements and people and hotels and all were terrific. Thanks for making my adventure so memorable and efficient. Warmest Regards, Bob (Weekley)"
---
"Dear Robert
June and I want to express our sincere appreciation and thank you for joining you on the tour of Ukraine. Being a fourth generation Ukrainian Canadian, this tour has enriched my faith and has made me a stronger Canadian appreciating my Ukrainian background.
It's difficult to express the feeling of seeing the homeland of our ancestors and still being proud Canadians.
Your tour was both fun and educational and I would highly recommend it to anyone.
Robert keep up your good work in promoting our Ukrainian heritage.
Your friends
Marshall & June Kachmar"
---
"Dear Robert
Thank you for all your time and effort planning and carrying out our tour of Ukraine. We certainly appreciate your concern with detail so that you gave us so much information about the trip, in advance and while on the tour and assistance with our return flight to Canada.
Sincerely
Amy & Walter Yakimyshyn"
---
"Dear Robert (R.J.): Re: Tour to Western Ukraine,
First of all, thank you for sending us the group photo in front of the L'viv Opera House and the photo of Steven & me taken on the Dniper River cruise in K'yiv. I wish our cameras resulted in prints as sharp and clear as yours.
Next, I'd like to thank you for arranging such a wonderful tour!! Steven and I have done quite a bit of travelling over the years, mostly with group tours, but none have been as well organized,informative, entertaining and all-inclusive as the Tour of Western Ukraine.
Congratulations on a first-class tour--all the way, every day. Your staff in Ukraine-- Svetlana, Ihor, Wasyl and Viktor--were the best!! The accommodations and meals were excellent, the entertainment superb!
Since our return, we have been recommending R.J's Tours to all our friends, neighbours and relatives. We're looking forward to receiving details about future tours.
Steven & Emily Odynak"
---
"Thank you for a great experience, it will be in my memory forever.
Olga Francey. British Columbia"
---
"We wish to thank you for the wonderful tour. All our expectations were met and more. It was very well planned and organized.
Henrietta & Rudy Dudinsky. Windsor, Ontario"
---
"Thank you for the exceptionally great tour. It's obvious your careful planning resulted in this great tour. The bus was first class in comfort and the seating plan was the best we have ever experienced. The food and entertainment was excellent. Thank you.
Mykola and Constance Gryf. Calgary, Alberta"
---
"What a great tour and for us one of the highlights was the taxi ride to our father's selo. Thank you.
Anne Melnyk. Brandon, Manitoba"
---
"Thank you for all your efforts. It was a great trip and very memorable for us.
The Chmilars. Redwater, Alberta"
---
"What a great trip! Great hotels, great food, exceptional entertainment and Robert, you did a great job as our escort. Visiting our relatives was an unforgettable experience.
Nick & Paul Seniuk, Alberta"
---